Images skillfully captured by acclaimed Osage artists, and mother and daughter team, will capture your heart
From Strategic Planning and Self Governance and Osage Nation Communications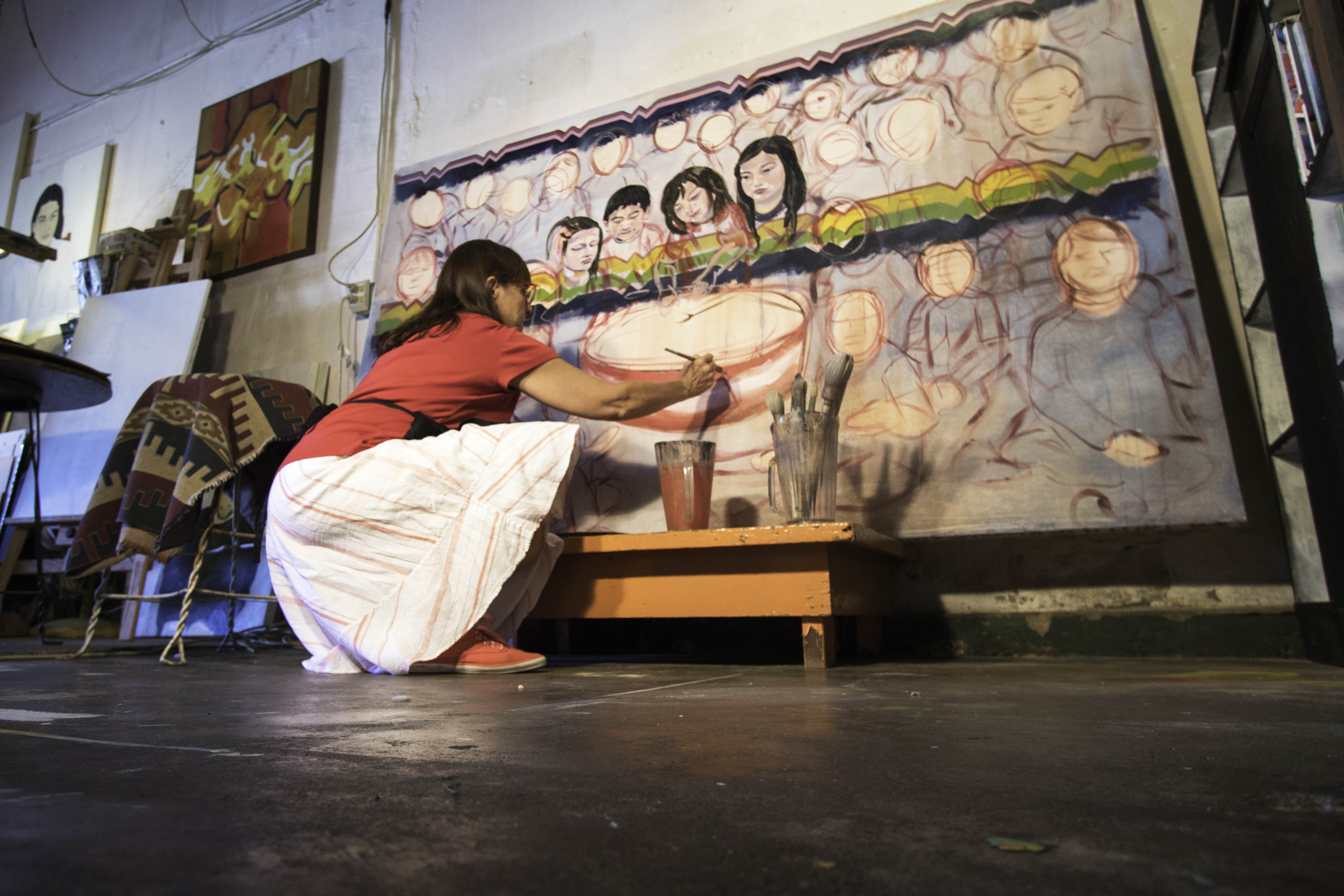 Fairfax, Okla., (Friday, June 9, 2017)--Wendy Ponca at her studio working on the mural for the Osage Nation language immersion school, the last mural in a series of five to recognize the significance of the resurgance of the Osage language. 
Pawhuska, Okla., (Friday, June 9, 2017)—The Osage Nation WahZhaZhe Early learning Academies (WELA) and Daposka Ahnkodapee, the Wahzhazhe (Osage) language immersion school, are receiving large canvas murals created by nationally acclaimed Osage artists Wendy Ponca and her daughter, Alex Ponca Stock. The large five feet by eight feet canvas murals include portraits of the children in each school with the inclusion of Osage arts, culture and language incorporated into each unique and beautiful work-of-art.
 
"We know we are a part of history with this project and we have been honored and humbled by the responsibility and experience," said Alex about the commissioned art for the schools.
 
The two artists were commissioned in April of this year to begin working on the murals after a competitive bidding process through the Osage Nation Office of Strategic Planning and Self Governance. The murals recognize and mark the historical endeavor by the Nation to save the Osage language by teaching the Osage language at all five Osage Nation schools including the first-ever Osage language immersion school, Daposka Ahnkodapee, Our School.
"I want the Osage language to go on forever," is the quote by Frances Oberly Holding that inspired Wendy's illustrations for the murals. Holding was a fluent speaker and language teacher. The quote motivated the mother daughter team to portray the children who are learning the Osage language at these schools.
 
Mural Themes
The mural at the Pawhuska WELA illustrates the children who live in an area of thorny thickets; the Fairfax WELA mural shows children who live in a hilly area; and the Hominy WELA mural represents children who live in an area with trees. The backgrounds of the three murals are specific to the designation of each of the three Osage districts. The Skiatook WELA mural depicts a lake representing the Osage history that Osages are children of the middle waters.
 
Daposka Ahnkodapee, Our School
The WahZhaZhe language immersion school mural portrays children in the school singing around a drum symbolizing the continuation of the Osage language and culture for future generations. As well, the artists incorporated the Osage ribbon-work patterns and the Osage orthography in the background of each painting.
 
Melvina Prather, Director of all four WELA sites, said, "I am overwhelmed by the work that was done in such a short timeframe. These murals signify yesterday, today and tomorrow.  They show our language, our culture and our traditions. There is so much represented in each mural that a casual glance can't comprehend." Prather along with many others stood in awe as the artist Wendy Ponca and her husband hung the first large canvas in the entry of the new WELA facility in Fairfax.
 
"These murals captured my heart the minute I saw them. They are truly a gift from Wendy and Alex and a testimony to their talents and dedication to our Osage language. This mother and daughter team spent countless hours to create these historical pieces. Many Osage families will treasure them for many years to come," Deb Atterberry, Osage Nation Strategic Planning and Self Governance Analyst. Atterberry has provided oversight for a TransCanada grant that made the murals possible.
 
The Osage language is now taught at all five Osage Nation schools to children ages six weeks to five years, year round.
 
WELA Mission
Our mission is to create a caring and nurturing learning environment which will develop the whole child: socially, emotionally, cognitively, and physically; and to encourage our children to become self-confident, enthusiastic lifelong learners.
 
Web Address: https://www.osagenation-nsn.gov/what-we-do/wah-zha-zhi-early-learning-academy
Email Address: wela@osagenation-nsn.gov
Mailing Address: 102 Buffalo Ave. Hominy, Okla. 74035
Telephone: 918-287-5300
 
Daposka Ahnkodapee (Daposka Ahnkodapee, Our School) Mission
Daposka Ahnkodapee (Our School), is an educational facility serving Osage children ranging in age from six weeks to Kindergarten. Daposka Ahnkodapee provides a place where children can begin to learn the Osage language, at a pre-verbal age, by hearing the Osage language spoken for several hours each day. Immersing students in the Osage language and culture, and providing them with opportunities to explore and learn each day will strengthen the self-esteem and Osage identity of our next generation. The ultimate goal of Daposka Ahnkodpaee is to expand the facility to include Osage children from ages six weeks through 12th grade.
 
Web Address: https://www.osagenation-nsn.gov/what-we-do/immersion-school
Email Address: dwebb@osagenation-nsn.gov
Telephone: 918-287-3354
 
###
For Media Inquiries: Osage Nation Communications 918-287-5599
communications@osagenation-nsn.gov