MISSION
THE MISSION OF BIRD CREEK FARM (BCF) "IS TO BE A SUSTAINABLE TRIBAL COMMUNITY AGRICULTURAL RESOURCE, SERVING OSAGE YOUTH, ELDERS AND FUTURE GENERATIONS."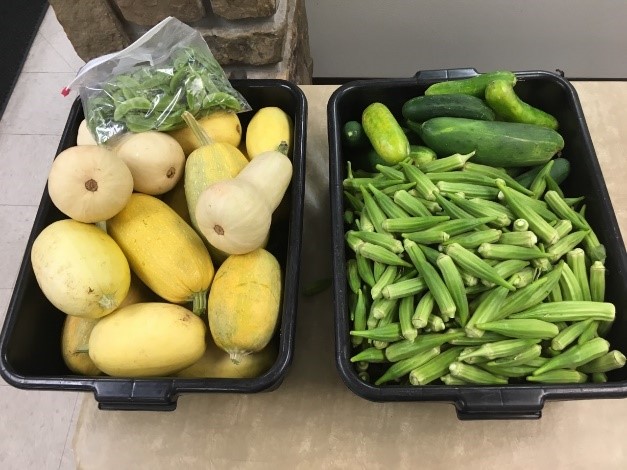 VISION
Bird Creek Farm, will provide fresh fruits, vegetables, and products to the Osage Nation, its programs, subsidiaries, and its citizens. The farm consists of 1 - 72 x 40 hoop house, 2 - 96 x 40 hoop houses, 1 monarch hoop house and field crops to grow traditional Osage and native heirloom crops such as corn and pumpkins.
Harvests are provided to Osage Nation programs:
Elders Nutrition Program – Pawhuska, Fairfax
Head Start – Pawhuska, Fairfax, Hominy, Skiatook
Wah-zha-zhi Early Learning Academy (WELA) - Pawhuska, Fairfax, Hominy, Skiatook
Language Immersion School - Pawhuska
Food Distribution - Hominy
Cultural events – Elonska Ceremonial Feasts, Funeral Feasts, Memorial Feasts
Seasoned Firewood Donation for Cultural Events:
5 ricks per each Drum Keeper Head Cook, during their districts, In-Lon-Shka Ceremonial dance
Funeral feasts 1 rick
Memorial feast 1 rick
Osage Native American Church feasts ½ rick twice a year
Cultural Encampment 2 ricks
Osage Nation events
Primary Residential Treatment (PRT) sweat lodge – Barnsdall (½ rick per week)
Bird Creek Farm benefits from a set of regional and local plans already in place, addressing the health, economic and cultural developments sought to be accomplished by the Osage Nation 25-year Strategic Plan.
Crops harvested and donated this year:
Final BCF and Aquaponics production numbers for 2018
6342.25 total lbs. of fruits and vegetables produced
23 different fruits and vegetables grown
Donated to 27 different departments or nation events
296 pumpkins, one per child in all tribal schools
68 pumpkins to employees
38.5 ricks of wood donated
11 career development employees utilized
4 events or camps hosted
2 high tunnel hoop houses built
2 photo shoots
2 national articles written about our collaboration with OU FRESH
1 PBS documentary filmed